Flatbeds

Flatbeds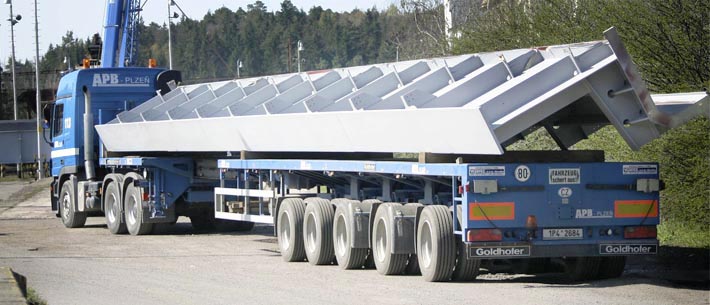 Flatbeds are designed for carrying cargo which are characterised by their marked length. The platform can be extended multiple times by a telescopic mechanism, allowing for the set up of the ideal length required. Flatbeds are mainly used for carrying long steel or reinforced concrete structures. We are specialists in carrying wind turbine blades.
For easy manoeuvrability, these trailers are equipped with additional remote control of all axles. In unextended mode, they can be used, e.g. for carrying mobile crane counterweights or other cargo with high density, under which the trailer structure, of retracted telescopic form, will not move.
Flatbeds of the following parameters are available to you:
Number      of axles: 3-6
Payload:      30-70 tons
Loading      height: 1475 –1650 mm
Platform      width:2550 mm
Platform      length: 13450 –48000 mm
Accessories:      fully adjustable stanchions
Get further information on carriage using flatbeds, or just order transport. Contact us.
Looking for something else?
We will
help you

.

Don´t hesitate to contact us.