Low loader semi-trailers (Jumbo)

Low loader semi-trailers (Jumbo)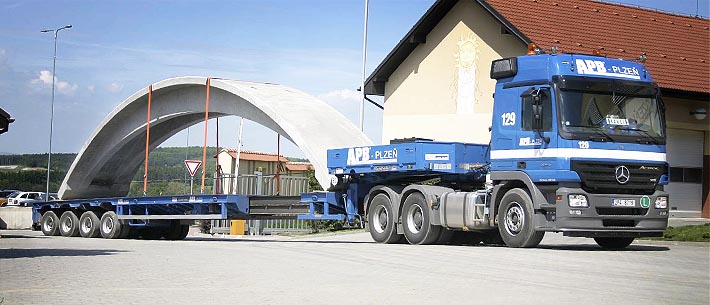 Online inquiry
Low platforms on low loader trailers allow the transportation of taller cargo.
We use JUMBO low loader semi-trailers for carrying machine parts, bulky structures or wind turbine tubes and blades. This type of trailer has the advantage of a low platform set above the trailer axles, allowing the transport of taller cargo. The telescopically extendable platform also allows the length to be set according to the parameters of the cargo to be carried.
The set up height can be adjusted for overcoming uneven terrain or lower points on the transport route, and it has remote controlled axles. Bridges on some models facilitate the loading and unloading of machines and mechanisms. These trailers are also suitable for carrying concrete and metal structures, machine marts or wind turbine tubes and blades.
We will be happy to give you further information over the phone or by e-mail. Contact us now.
Looking for something else?
We will
help you

.

Don´t hesitate to contact us.