Earthworks

Earthworks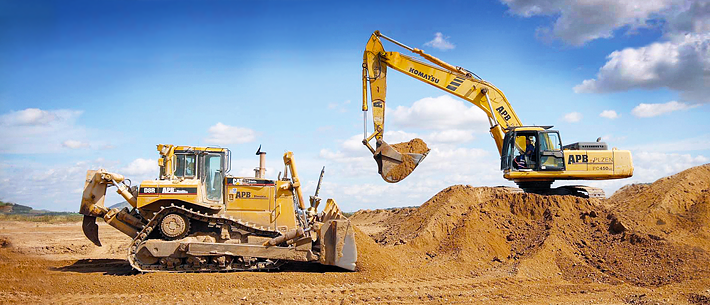 Online inquiry
We can undertake any kind of earthworks, from minor earthworks such as digging foundations for houses right up to complicated earthworks and extensive landscaping.
We undertake complete earthworks of the highest quality. If you are looking for an attested and experienced supplier of earthworks for building construction, transport construction or water management construction, then APB – Pilsen is the right choice for you. We have a wide range of equipment for earthwork including vehicles for transporting large volumes of soil. Our large number of core workers, who are true professionals in their field, are your guarantee of satisfaction. Contact us to get an earthworks solution exactly according to your requirements.
Use APB – Pilsen for your earthworks:
Earthworks from house foundations to extensive landscaping for the construction of logistics sites.
Complete land preparation, rough landscaping, compacted and reinforced fill, fill bodies, ditch digs, deep digs and work in confined conditions.
Movement of large volumes of soil using own road vehicles.
Rehabilitation, land and stripping work
Soil stabilisation
Environmentally friendly cleanup of contaminated sites.
You will find it difficult to find something in the earthworks field which we won't be able to undertake. Rely on a leading supplier of earthworks and get in contact with APB – Pilsen now.
Strength through equipment
We wouldn't be able to provide you with earthworks of any size without the necessary equipment and established certificates. Our vehicle fleet contains tracked and wheeled excavators from the smallest at 1.43 t all the way to machines of 76.2 t weight with a scoop volume of 4.75 m3. You will also find bulldozers, tracked and wheeled trucks of all sizes and rotary tillers. There are many kinds of dump trunk available to you for transporting soil. Contact us today.
Looking for something else?
We will
help you

.

Don´t hesitate to contact us.