Construction of the R1 Beladice – Tekovske Nemce expressway

Construction of the R1 Beladice – Tekovske Nemce expressway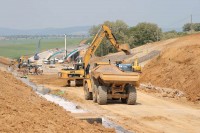 We constructed an expressway in the Central Slovakia region. This involved the complete construction of the body of the motorway, earthworks  and construction work.
Location: Slovakia, Beladice, Tekovske Nemce
We undertake complex earthworks at transportation construction sites, such as the construction of roads, motorways and other communications. We are equipped with more than 400 quality construction machines. 
Interested in our earthworks? Contact us.
Take a look at photos of earth and construction works:
Construction of the R1 Beladice – Tekovske Nemce expressway- video