Truck-mounted cranes

Truck-mounted cranes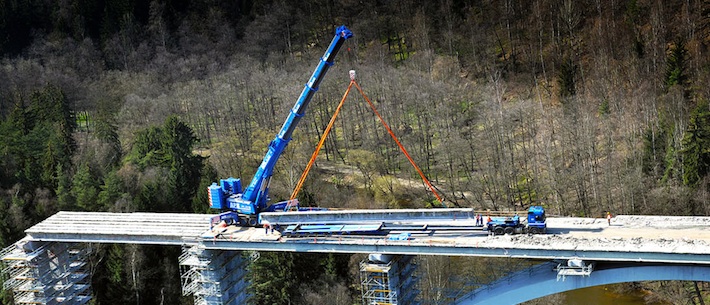 Online inquiry
We own a wide portfolio of telescopic and truss cranes. We also take care of required permits and insurance.
We undertake complete crane work using our own equipment and highly professional workers. Our combination of powerful machines and specially trained employees means we can handle objects up to a weight of 600 tons while preserving maximum safety of employees and the load itself. We are insured for any kind of accident with a sufficiently high payout. Thus, you can rest assured that our crane work will in no way put your construction project in danger.
Benefits of truck-mounted cranes from APB Pilsen
Extensive      range of truck-mounted cranes with load of up to 600 t.
Experienced      and specially trained operators.
Adequate      insurance in case of accident.
Certified      crane work supplier.
We take      care of the necessary technical permits for crane work.
Before beginning work, we carry out a specialist appraisal of the workplace and determine the most appropriate type of crane. At the same time, we provide you with transport of heavy and oversized cargo. Contact us and order your crane work today.
Truck-mounted cranes for any job
We have a wide range of truck-mounted cranes available which will easily undertake any job you want from us. All truck-mounted cranes are in excellent technical condition and are subject to regular technical check-ups. We also regularly renew our fleet, so you can always be sure that your job will be undertaken using the latest technologies.
Contact us to get further information about crane work.
Looking for something else?
We will
help you

.

Don´t hesitate to contact us.