Demolition

Demolition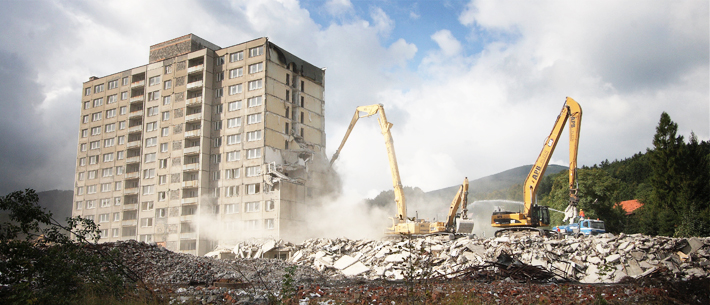 Online inquiry
We are specialists in all demolition work, which we undertake using the latest technologies and modern methods.
Get your demolition work done by professionals, undertaken using the latest technology and experienced workers. We will demolish any construction, including unusual and complicated structures. Take advantage of our many years experience in demolishing tall buildings and chimneys, bridges and all standard types of building. We carefully sort and recycle material from the demolition to minimise the negative impact of the demolition on the environment as far as is possible. The demolition location will thus be carefully prepared for the implementation of your further plans.
The benefit of demolition undertaken by Petr Březina – APB Pilsen is in the power of the demolition equipment we have available. Our team of experienced professionals can overcome even the most complicated technological hurdles in preparing for and during the demolition work.
The large number of demolitions that we have undertaken of various extents has led us to gain valuable experience. As a result, we can demolish almost anything – fast and with minimum requirements on restrictions in the direct vicinity of the ongoing demolition. In addition, we provide you with a complete service, including sorting, recycling and removal of rubble. Contact us now to acquire a professional partner for your demolition.
Looking for something else?
We will
help you

.

Don´t hesitate to contact us.