Demolition of mixed structures

Demolition of mixed structures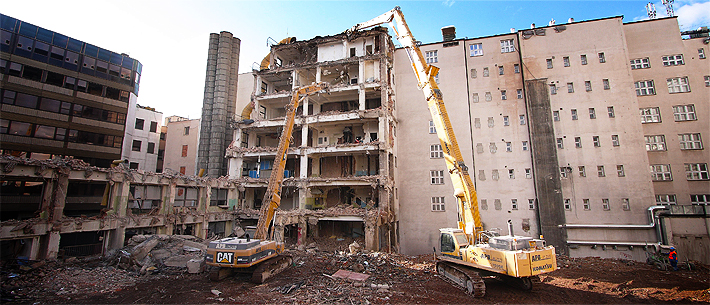 Online inquiry
We undertake the demolition of mixed structures, including sorting of different types of demolished material.
If you get us to demolish mixed structures, you get the guarantee of work carried out precisely and you can be sure all issues related to the demolition will be dealt with. Take a look at our jobs undertaken and see our level of quality for yourself.
In disposing of mixed structures, we impose great demands on sorting different types of material. Because only then can waste in the form of concrete, brick and other materials be recycled and reused. In addition to financial benefits, you have the advantage of absolute minimal demolition waste impacting on the environment.
We demolish mixed structures using specialised equipment which we own. We use exclusively brand machines in excellent technical condition. Because we have an extensive range of machines, we can easily replace any machine should it malfunction. This means a reduced risk of delay in the demolition of mixed structures, as is the case for the other services we supply. Don't compromise and order mixed structures demolition from a tried and tested company. Contact us now.
Looking for something else?
We will
help you

.

Don´t hesitate to contact us.