Demolition of tall buildings and chimneys

Demolition of tall buildings and chimneys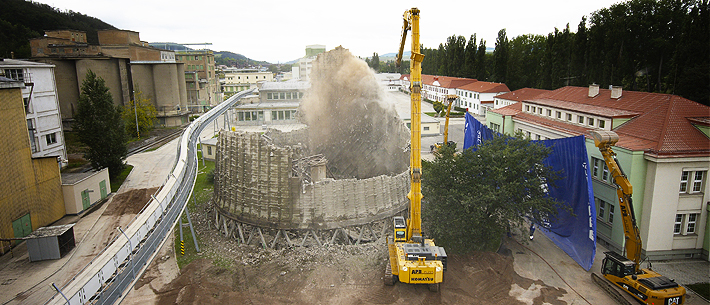 Online inquiry
We demolish tall buildings and chimneys using the latest technology. As a result of our many years' experience, we use a technological method uniquely designed by us.
We will undertake the demolition of tall buildings for you using special demolition mechanisms and experienced workers. As a result of our extensive experience of this type of demolition, our demolition teams are ready to deal with even unforeseen situations in order to prevent damage of surrounding property and ensure the safety of people. In demolishing tall buildings, we ensure we follow strict safety rules, as we do in proving other services.
We have developed our own technology for demolishing chimneys. We attach hydraulic shears to a tall crane, which are remote controlled from the track excavator. This method makes the demolition much faster and safer.
The demolition of tall buildings and chimneys requires a very specific approach, and it should always be undertaken by a company which has sufficient verifiable experience. APB – Pilsen is certainly one such company, as demonstrated by the wide range of jobs it has undertaken of this type. If you want to be assured that the demolition of tall buildings and chimneys will take place without unnecessary delays and complications, then don't hesitate and entrust your job to APB – Pilsen. We will do our utmost to satisfy you.
Looking for something else?
We will
help you

.

Don´t hesitate to contact us.