Demolition of reinforced concrete

Demolition of reinforced concrete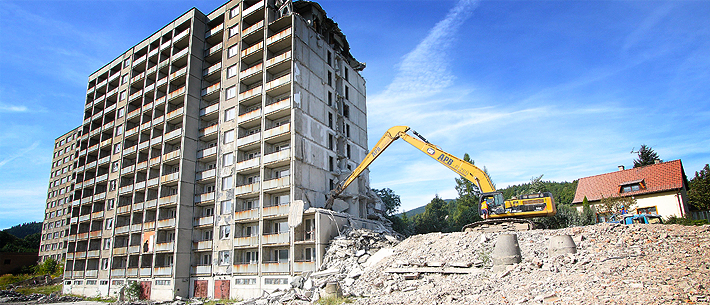 Online inquiry
We can handle the removal of any kind of reinforced concrete structures.
Powerful machines and experienced APB – Pilsen workers; a reliable combination which will rid you of unnecessary, or in the way reinforced concrete structures. We have an exceptionally wide range of hydraulic hammers and hydraulic shears at our disposal, placed on tracked excavators. The demolition of reinforced concrete structures is thus undertaken quickly without unnecessary downtime. Hydraulic shears can cut reinforced concrete sections up to 80 cm thick. Contact us to find out more.
Our services always include the sorting, recycling and disposal of demolition waste. This means significantly reduced administration and costs for you. Waste disposal and recycling of waste by APB – Pilsen will end up much cheaper for you than if you had to use another supplier. In addition, we are able to guarantee you unrivalled quality. On completion of the demolition of reinforced concrete structures, the site is always put in the ideal condition for implementing your further plans.
Rely on our professionals with extensive experience of demolition work. Contact APB – Pilsen today for further information.
Looking for something else?
We will
help you

.

Don´t hesitate to contact us.