Transport construction

Transport construction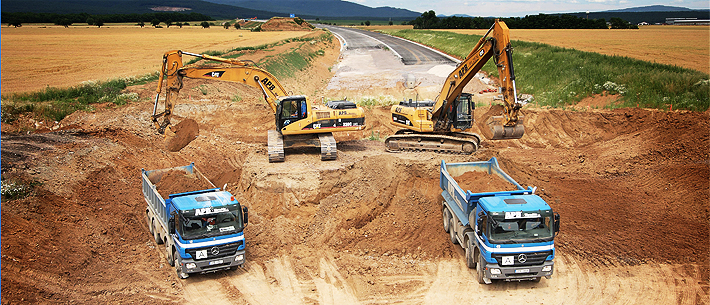 Online inquiry
We undertake earthworks for motorways, roads, car parks, parking spaces and lay-bys
Order earthworks for transport construction with APB – Pilsen. We hold a number of certificates. We will undertake your earthworks for small transport constructions just as reliably as for motorways or extensive transport hubs. You can see for yourselves that we are the supplier of choice for earthworks for transport construction from the overview of jobs done. Thanks to our extensive experience and range of equipment, you can always be sure that the earthworks will be undertaken to the highest quality.
For transport construction, we undertake especially:
Earthworks      and changes to plans for motorways.
Earthworks      and changes to plans for roads.
Earthworks      and changes to plans for car parks, parking spaces and lay-bys.
Contact us to get a quote.
Professionalism in all respects
An advantage of our services is our experience and professionalism. There are few firms which can offer such an extensive knowledge of earthworks, not just in transport construction. You will always have the guarantee that our workers have met with us and are able to responsibly uncover and deal with any problems which arise directly on site. These capabilities are an attested route to the fast and trouble-free completion of a job. Call us for further information about earthworks for transport construction.
Looking for something else?
We will
help you

.

Don´t hesitate to contact us.