Transport of technologies in Kralupy nad Vltavou

Transport of technologies in Kralupy nad Vltavou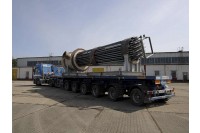 Transport of technologies in Kralupy nad Vltavou. Using a flatbed semi-trailer, we transported the oversized cargo in Kralupy nad Vltavou.
Type of semi-trailer used: Nooteboom OVB 102 06 flatbed semi-trailer
Route: Kralupy nad Vltavou locco
Notes: disassembly, transport and assembly of technology parts by APB Pilsen cranes during breaks
We carry many types of heavy and oversized cargo. Interested in oversized cargo carriage?