2nd phase of D1 motorway modernization

2nd phase of D1 motorway modernization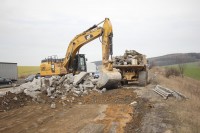 Within the 2nd phase of  D1 motorway modernization and extension  we provide earthworks, soil stabilization, including the laying down of drainages, gutters, sewerage and preparation of the gravel layer.
 Location: D1 highway 04/34 Ostředek - 04/41 Šternov
We undertake complex earthworks for construction sites, from minor earthworks to complex earthworks and extensive landscaping for the construction of logistics warehouses, industrial zones, projects by developers. We are equipped with more than 400 quality construction machines. 
Interested in our earthworks? Contact us.