Wind turbine Žipotín

Wind turbine Žipotín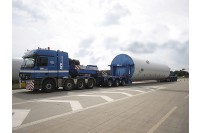 Transport and assembly of wind trubines. With use of our technology we transported and assemble wind turbines in Žipotín.
Oversized cargo dimensions: 39 x 2,5 x 3,3 m
Type of semi-trailer used: Nooteboom MCO 105 08, Goldhofer STZ THP 4+6 FB,
Scheuerle JPD 55 Liftad 7
Route: (D) - Žipotín
Note : transport and assembly of freight in cooperation with cranes APB-Plzeň
We carry many types of heavy and oversized cargo. Interested in oversized cargo carriage?
Take a look at photos of the carriage of the oversized cargo: