Transportation of steel tank from Benešov to Dobříč

Transportation of steel tank from Benešov to Dobříč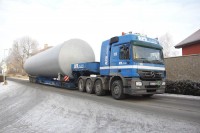 Transportation of steel tank from Benešov to Dobříč.
Dimensions of overload: Steel tank with a diameter of 4.2 m and a length of 21 m
Type of semi-trailer used: Goldhofer VKL 4                                                                       Route: Benešov - Dobříč
We carry many types of heavy and oversized cargo. Interested in oversized cargo carriage?
Take a look at photos of the carriage of the oversized cargo: