Transportation of 10 beer tanks to the Pilsner Brewery

Transportation of 10 beer tanks to the Pilsner Brewery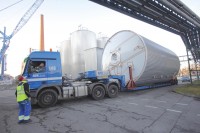 Transportation of 10 beer tanks from Burgstad (Germany) to the Pilsner Brewery. Beer tank in diameter 6,5m and weight 23,5t and consequential  installation by using  mobile cranes AC 500 and AC 200.
Type of semi-trailer used: Nooteboom EURO 42-02, Nooteboom EURO 59-03, Goldhofer STZ VL3
We carry many types of heavy and oversized cargo. Interested in oversized cargo carriage?
Take a look at photos of the carriage of the oversized cargo: