Transport of water turbine Praha - Trója

Transport of water turbine Praha - Trója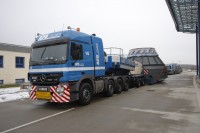 Transport of water turbine for new hydroelectric plant at Prague, Trója, was performed
by help of special truck.
Oversized cargo dimensions:  6 m (diameter) and  3,9 m (height)
Type of semi-trailer used : STZ THP 2+4 KB  and STZ THP 3+5 FB
Route: (D) - Praha - Trója
Notes: disassembly, transport and assembly of technology parts by APB Pilsen cranes during breaks
We carry many types of heavy and oversized cargo. Interested in oversized cargo carriage?