Transport of trolley bus Salzburg

Transport of trolley bus Salzburg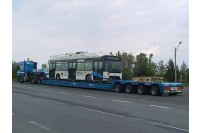 Transport of trolley bus with use of frame trailer on the road Pilsen - Salzburg.
Oversized cargo dimensions: 12 x 2,5 x 3,5 m
Type of frame trailer used: Nooteboom EURO 64-04
Route: Plzeň - Salzburg
We carry many types of heavy and oversized cargo. Interested in oversized cargo carriage?
Take a look at photos of the carriage of the oversized cargo: