Transport of steel weldment

Transport of steel weldment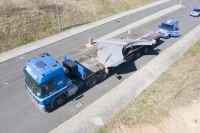 Transport of steel weldment from Pilsen.The most difficult thing was to get the weldment out of the hall, where the width of the door was 40 cm smaller than the width of the load.
Oversized cargo dimensions: Length 7.9 m, width 4.8 m, weight 16.5 t
Type of semi-trailer used: OVB 55-03
Route: Pilsen - Štenovice
We carry many types of heavy and oversized cargo. Interested in oversized cargo carriage?
Take a look at photos of the carriage of the oversized cargo: