Transport of military vehicle

Transport of military vehicle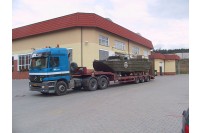 Transport of military transport on the road Belqium – ČR with help of dropdeck trailer.
Oversized cargo dimensions: 9,5 x 2,5 x 2 m
Typer of drop deck semi-trailer used: Nooteboom OSD 48-03
Route: Belgie - ČR
We carry many types of heavy and oversized cargo. Interested in oversized cargo carriage? Contact us.
Take a look at photos of the carriage of the oversized cargo: