Transport of footbridge steel section

Transport of footbridge steel section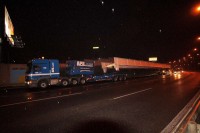 Transport of footbridge steel section to Pilsen. Using a special semi-trailer, we transferred the bridge structure from Prague to Pilsen. Width of oversized cargo 5.2m, length 42m.
Oversized cargo dimensions: bridge length 42m, width 5.20m
Type of semi-trailer used: Goldhofer STZ THP 3+7 special pole semi-trailer
Route: Prague - Pilsen
Notes: bridge laid using AC 500 crane
We carry many types of heavy and oversized cargo. Interested in oversized cargo carriage? Contact us.
Take a look at photos of the carriage of the oversized cargo: