Transport of excavator CAT 345

Transport of excavator CAT 345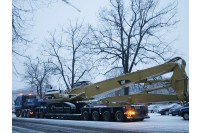 Transport of excavator CAT 345 on the road Most –Pilsen. By help of lowboy semi trailer, we transported cargo with dimentions of 14 x 3,5 x 3,8.
Oversized cargo dimensions: 14 x 3,5 x 3,8 m
Type of lowboy semi-trailer used: Goldhofer STZ VH 2+4
Trasa: Most - Plzeň
We carry many types of heavy and oversized cargo. Interested in oversized cargo carriage?
Take a look at photos of the carriage of the oversized cargo: