Transport of drilling rig Špindlerův mlýn

Transport of drilling rig Špindlerův mlýn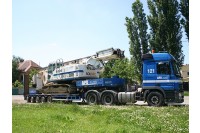 Transport of drilling rig to Špindlerův mlýn. With use of low deck trailer (jumbo), we transported drilling rig on the route Prague – Špindlerův Mlýn.
Oversized cargo dimensions: 14 x 3 x3,3 m
Type of low deck-trailer used: Goldhofer STZ L5
Route: Praha - Špindlerův Mlýn
We carry many types of heavy and oversized cargo. Interested in oversized cargo carriage? Contact us.
Take a look at photos of the carriage of the oversized cargo: