Transport of dispenser Tachov

Transport of dispenser Tachov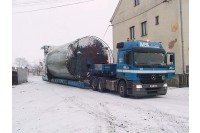 Frame trailer Nooteboom EURO 64 – 04 we implemented transport of dispense on the road Vsetín – Tachov.
Oversized cargo dimensions: 15 x 4 x 4 m
Type of frame semi-trailer used: Nooteboom EURO 64-04
Route: Vsetín - Tachov
We carry many types of heavy and oversized cargo. Interested in oversized cargo carriage? Contact us.
Take a look at photos of the carriage of the oversized cargo: