Transport of crane girders

Transport of crane girders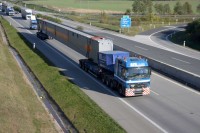 The transport of crane girders from Brnoto Cologne. Using a special semi-trailer we transported crane girders on the route Brno - Cologne.
Oversized cargo dimensions: 51.1 x 1.6 x 3.29m, 55.6t
Type of semi-trailer used: Goldhofer STZ THP 3+5 special pole semi-trailer
Route: Brno – Cologne (D)
Notes:  overall parameters of complete unit – 60.5 x 2.75 x 4.65m – 105.6t
We carry many types of heavy and oversized cargo. If you are interested in our carriage services, contact us.
Take a look at photos of the carriage of the oversized cargo:
Transport of crane girders - video