Transport of cinematrain to Dobřany

Transport of cinematrain to Dobřany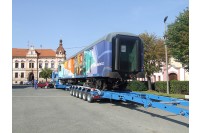 With a specil trailer we transported cinematrain to festival "Filmák" at Dobřany 2006, dimentions of the transported cargo  24 x 2,6 x 3,7 on the road Plzeň – Dobřany.
Oversized cargo dimensions: 24 x 2,6 x 3,7 m
Type of special-trailer used: Goldhofer STZ L6
Route: Plzeň - Dobřany
Note : Cinematrain on film festival Dobřany 2006
We carry many types of heavy and oversized cargo. Interested in oversized cargo carriage?