Transport of bridge component

Transport of bridge component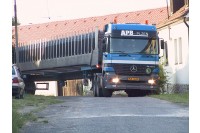 Transport of bridge component and following compilation with crane APB-Plzeň. Flatbed trailer transported cargo with dimentions 33 x 4 x 1,5 m.
Oversized cargo dimensions: 33 x 4 x 1,5 m
Type of flatbed semi-trailer used: Nooteboom OVB 55-03
Route: Prostějov - Putim
Note : transport and compilation of the cargo was done by cooperation with crane ABP-Plzeň
We carry many types of heavy and oversized cargo. Interested in oversized cargo carriage? Contact us.
Take a look at photos of the carriage of the oversized cargo: