Transport of beer tanks

Transport of beer tanks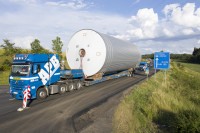 Transport of 10 beer tanks from Bürgstadt, Germany to Pilsen brewery. Beer tank with a diameter of 6.5 m and a length of 23 m, weight 28.7 t.
Dimensions of overload: 3 m length, diameter 6.5 m, 28.7 t
Route: Lovosice -  Pilsen

We carry many types of heavy and oversized cargo. Interested in oversized cargo carriage?
Published on: Aug 28, 2020 1:42 PM
Galleries