Transport Milikov – railway walkway

Transport Milikov – railway walkway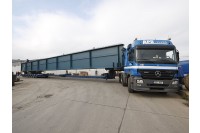 With use of low-deck trailer, we transported railway walkway on route Praha - Milikov.
Oversized cargo dimensions: 35 x 4 x3 m
Type of low deck-trailer used :Nooteboom MCO 105 08
Route: Praha - Milikov
Notes: disassembly, transport and assembly of technology parts by APB Pilsen cranes during breaks
We carry many types of heavy and oversized cargo. Interested in oversized cargo carriage?
Take a look at photos of the carriage of the oversized cargo: