Transport and storage of bridge structure

Transport and storage of bridge structure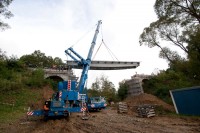 Using a special semi-trailer and the railways, we transported a bridge structure. Using a crane, the structure was laid on the on the bridge supports.
Oversized cargo dimensions: 35.0 x 5.40 x 2.0m – 45t
Type of semi-trailer used: Goldhofer STZ THP 4+3 special pole semi-trailer
Route: Dublovice - Znosín
Notes:  During transport, the cargo was placed on a train, from which it was laid on the bridge supports by crane.
We carry many types of heavy and oversized cargo. If you are interested in our carriage services, contact us.
Take a look at photos of the carriage of the oversized cargo:
Transport and storage of bridge structure - video