The second phase of construction works of shopping center Chodov

The second phase of construction works of shopping center Chodov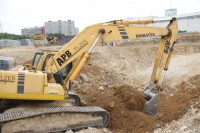 Currently we are finishing extensive demolition of shopping center Růže  and continues the second phase of earthworks construction for  the new part of shopping center  Chodov. We provide excavation of main construction pit, excavation of south ramp and topsoil removal  at the place of entrance to underground garage tube.
Location: Prague
We undertake complex earthworks for construction sites, from minor earthworks to complex earthworks and extensive landscaping for the construction of logistics warehouses, industrial zones, projects by developers. We are equipped with more than 400 quality construction machines. 
Interested in our earthworks? Contact us.