Steel beams - parts of the bridge Dublovice and Nový Knín - Pilsen

Steel beams - parts of the bridge Dublovice and Nový Knín - Pilsen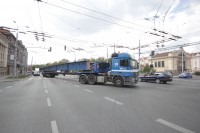 Transportation of steel beams - parts of the bridge from Dublovice and Nový Knín to Pilsen and consequential installation by using AC 500.
Oversized cargo dimensions: 31,10 x 2,85 x 1,30 m – 27,00 t
Type of semi-trailer used: DH4 a OVB 65-04
Route: Dublovice a Nový Knín – Pilsen
We carry many types of heavy and oversized cargo. Interested in oversized cargo carriage?
Take a look at photos of the carriage of the oversized cargo: