Retention basin – Pilsen Vinice

Retention basin – Pilsen Vinice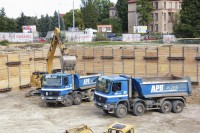 Excavation of sheeted retention pit on individual levels according to the sheeting project during the construction of a new Vinice retention basin and a new overflow chambre. This will solve the problem with an overloaded sewer in the area of Vinice and Sylván. The works also include backfills  of the completed works and rough groundworks  modeling.
Location: Pilsen Vinice
We undertake complex earthworks for construction sites, from minor earthworks to complex earthworks and extensive landscaping for the construction of logistics warehouses, industrial zones, projects by developers. We are equipped with more than 400 quality construction machines. 
Interested in our earthworks? Contact us.
Published on: Sep 28, 2020 12:16 PM
Galleries