Reconstruction of the National Museum Building

Reconstruction of the National Museum Building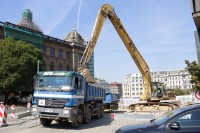 Earthworks  in the reconstruction of the historical building of the National Museum in Prague. We provide excavation of the pit for the construction of  connecting corridor, itś an interconnection between old and new building. At the same time  excavation works of the pit  for new diesel generator  and for construction of  new staircase are in progress.
We undertake complex earthworks for construction sites, from minor earthworks to complex earthworks and extensive landscaping for the construction of logistics warehouses, industrial zones, projects by developers. We are equipped with more than 400 quality construction machines. 
Interested in our earthworks? Contact us.
Published on: Aug 31, 2016 7:27 AM
Galleries