Pilsen City Ring, Plaská Street

Pilsen City Ring, Plaská Street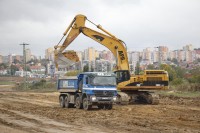 Realization of earthworks for the construction of the city ring road in Pilsen, interconnection of roads I / 20 and II / 231 Plaská-Na Roudné-Chrástecká, incl. related gs such as sidewalks, cycle paths and preparations for future connection of new local roads and embankment of noise barrier.
Location: Pilsen
We undertake complex earthworks for construction sites, from minor earthworks to complex earthworks and extensive landscaping for the construction of logistics warehouses, industrial zones, projects by developers. We are equipped with more than 400 quality construction machines. 
Interested in our earthworks? Contact us.
Published on: Oct 1, 2019 12:16 PM
Galleries