Installation of new bells on the Cathedral of St. Bartholomew in Pilsen

Installation of new bells on the Cathedral of St. Bartholomew in Pilsen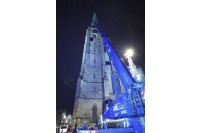 By using a truck – mounted crane AC 200 we installed in Pilsen 5 new bells (Bartholomew, Marie, Jan, Hroznata, Prokop) up to height  50m on the Cathedral of St. Bartholomew. The biggest one is Bartholomew weighting 5,5 tons.
Reportage  iDNES.CZ from action taking place on the Main square of Pilsen you can see on websites iDNES/Plzeňský kraj.
Location: Pilsen
Type of telescopic crane used: AC 200
We have various sizes of crane available and always at your service. We own telescopic truck-mounted cranes and wheeled or tracked truss cranes. We will also take care of permits for crane work, ensuring occupational safety and necessary insurance. Interested in the use of a truck-mounted crane? Contact us.