Extension of seniors' home in Nové Strašecí

Extension of seniors' home in Nové Strašecí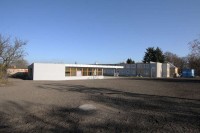 We realized a complete extension of seniors' home in Nové Strašecí.

Location: Nové Strašecí

Interesting fact: The house is designed to accommodate a therapy for patients with Alzheimer's disease, which means greater demands on the performance of the work so that all requirements for a successful medical therapy are fulfilled.
We provide a various types of construction work include utility lines underground laying. We are equipped with more than 400 high-quality construction machinery. Are you interested about our construction works? Contact Us.
Extension of seniors' home in Nové Strašecí - video