Demolition work of the railway bridge on the line Hájek – Dalovice

Demolition work of the railway bridge on the line Hájek – Dalovice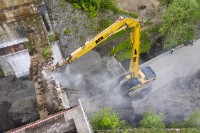 Demolition work of the railway bridge on the Hájek – Dalovice line  with the assistance of the cranes due to the  auxiliary work during the demolition. The crane work during this construction project included the removal of two pieces of steel deck with loading onto trucks  and storage  in a place designated by the customer.
The specificity of this demolition was that the client ensured the cutting of the existing structure, which ensured the expansion of the parts left from those demolished. Subsequent demolition was carried out with the utmost care and attention, which must not damage these dilated parts.
Type of truck-mounted crane used: AC 350  
Location: Prague
We undertake demolition using the latest technologies and modern methods, and we can therefore undertake extensive demolition work at frequented locations with minimal restrictions on operations in the surroundings. We are equipped with more than 400 quality construction machines for demolition.
Interested in our demolition work? Contact us.
Published on: Jun 18, 2020 12:16 PM
Galleries