Demolition of Škoda Ostrov nad Ohří area

Demolition of Škoda Ostrov nad Ohří area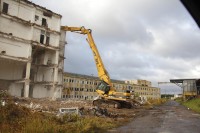 Demolition of objects in former Škoda area close to Ostrov nad Ohří. The area was formed by wide range of objects from administrative buildings, buildings forming background as workshops, garages,  and warehouses to production halls. Special objects such as transformer station, boiler room, chimney  were found there. Recyclable uncontaminated materials were crushed on site and material deposited for future use of the investor.
Other activities carried out under the contract included relocations  of  utilities.
Location: Škoda Ostrov nad Ohří
We undertake demolition using the latest technologies and modern methods, and we can therefore undertake extensive demolition work at frequented locations with minimal restrictions on operations in the surroundings. We are equipped with more than 400 quality construction machines for demolition.
Interested in our demolition work? Contact us.
Published on: Oct 27, 2018 3:42 PM
Galleries