Demolition in Prague

Demolition in Prague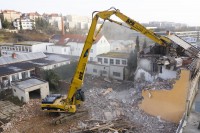 Demolition Prague – buildings in the former premises of the Central Automobile Workshops of the Ministry of the Interior  of the Czechoslovak Republic were demolished during the Waltrovka Phase III construction project. The objects were demolished  mechanically by gradual disassembly to the level of the surrounding terrain.
Location: Prague
We undertake demolition using the latest technologies and modern methods, and we can therefore undertake extensive demolition work at frequented locations with minimal restrictions on operations in the surroundings. We are equipped with more than 400 quality construction machines for demolition.
Interested in our demolition work? Contact us.
Published on: Mar 25, 2020 10:00 AM