Construction of Hornbach shopping centre site

Construction of Hornbach shopping centre site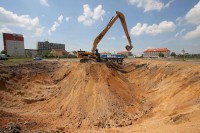 We undertook earthworks  and construction works for Hornbach Pilsen shopping centre. In addition to rough landscaping and earthwork, we also implemented the laying of pipelines and built roads and hard surfaces.
Location: Pilsen
Notes: construction in the city centre
We undertake complex earthworks for construction sites, from minor earthworks to complex earthworks and extensive landscaping for the construction of logistics warehouses, industrial zones, projects by developers. We are equipped with more than 400 quality construction machines. 
Interested in our earth and construction work? Contact us.
Take a look at photos of earth and construction works:
Construction of Hornbach shopping centre site - video