Blanka tunnel, Prague

Blanka tunnel, Prague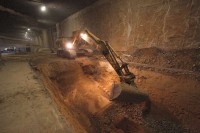 We undertook earthworks in an enclosed tunnel body in the construction of the Blanka tunnel in Prague.
Location: Prague
Notes: earthwork undertaken in accordance with Mining Authority rules
We undertake complex earthworks at transportation construction sites, such as the construction of roads, motorways and other communications. We are equipped with more than 400 quality construction machines. 
Interested in our earthworks? Contact us.
Take a look at photos of earthworks:
Blanka tunnel, Prague- video